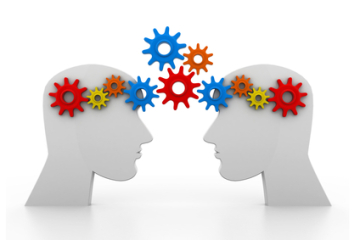 John Mongiovi, Board Certified Hypnotist
For humans, language is a form of symbolic communication, and semantic input (the meaning of words) can provoke both cognitive and sensory emotional responses. Hypnotic suggestion is an extension of this mechanism of normal verbal communication. In this sense, the results of a hypnotic suggestion rely on the dynamics of communication and behavior.
Increased suggestibility is a feature of hypnosis. The standard explanation to account for this increased suggestibility is that trance inhibits the activity of the conscious, critical mind, thereby permitting hypnotic suggestions to influence the mind more easily. A typical approach of hypnotherapy is for the hypnotist to deliver verbal suggestions while the subject is in the state of trance. This differs from positive affirmations and from talk therapy, which do not necessarily use trance to reduce the critical faculty.
Direct versus indirect suggestion
Direct suggestions are straightforward statements that are usually obvious to the hypnotic subject. For example: "You sleep easily" or "You do not smoke." In contrast, methods of indirect suggestion, sometimes referred to as covert hypnosis, aim to influence the subject's unconscious without his knowing. You can read about forms of indirect suggestion here.
Post hypnotic suggestion
A post hypnotic suggestion is a suggestion that is carried out after the hypnotic trance is terminated. For example: "When you awaken each morning you feel refreshed and alert." Some people believe that a post hypnotic suggestion is a miniature replica of the original hypnotic situation, in other words that the person carrying out the post hypnotic suggestion re-enters a state of hypnosis. Some subjects develop complete amnesia of the posthypnotic act, some are aware of the suggestion as they carry it out, and some remember the suggestion only after the act is completed. Periodic reinforcement increases the effectiveness of post hypnotic suggestions.

Suggestion without trance
In hypnotherapy, suggestions are usually delivered while the subject is in a state of trance. However, some forms of hypnotic suggestion do not rely on traditional induction of a trance state, and use other methods to reduce the critical faculty of the conscious mind. For example, misdirection of attention can be used to divert the individual's intellectual or logical processes from participating in the response, so that a suggested act is carried out automatically. Also, the conscious critical factor can be eliminated due to a unique rapport between the hypnotist and subject. In fact, suggestibility depends more on the rapport between the hypnotist and subject than on the depth of trance or on the particular technique that is used.
Two forms of suggestion that do not rely on trance are waking hypnosis and waking suggestion.
Waking hypnosis describes when hypnotic effects are achieved without the trance state, but where the critical faculty is bypassed. For example, a crying child who is certain her pain will disappear if her mother kisses her is experiencing waking hypnosis. The child is not hypnotized, but is absolutely convinced, and therefore the critical faculty is bypassed. Superstition is also form of waking hypnosis. Waking hypnosis can be used for those who are resistant to the trance state, or where trying to save time (ex: using hypnosis in a doctor's or dentist's appointment, or in an emergency situation). Every effect obtainable with the trance state is obtainable with waking hypnosis.
Waking suggestion is when suggestion is given to a person in a normal state of consciousness (i.e. not in the trance state), but there is no bypass of the critical faculty. An example of waking suggestion is when a person yawning causes another person to yawn. Waking suggestion plays a large part in tics and obsessive behaviors.
Aside from waking hypnosis and waking suggestion as verbal methods for delivering suggestion without trance, repetitive stimulation of any of the sensory input organs also can increase suggestibility.
Beyond suggestion
In any discussion of hypnotic suggestion, it is also important to note that suggestion is only one aspect of what occurs during hypnosis.